Since 1995, I have taken time off during most summers to attend at least one music festival in North America. I tend to avoid overseas travel during the busy months of July and August when just showing up in a town and expecting to find a hostel bed is far from assured.
This summer was no different, and my festival-going started with the Falcon Ridge Folk Festival, preceded by a night in Bennington, Vermont and an afternoon checking out the college there. This is, in fact, my longest running festival habit. I have attended Falcon Ridge every year since 1997 except for 2002 when I was traveling in Asia for five months. After camping at the Big Orange Tarp last year, I was back to my traditional home at Camp Dar and was happy to hear that they'd taken me into account when figuring how much space they needed.
A big attraction of these kinds of events is the opportunity to discover new artists, or even to give others a second or third chance. That's what happened with me and the solo musician Ellis. I saw her first at Folk Alliance 2004 and wasn't so impressed. I then checked out a set of hers at the 2005 Folk Alliance and thought a little more of her songs, but it was only after last year's Falcon Ridge that I liked her enough to buy a CD. And now I'm completely hooked and can't get enough of her.
Other people whose CDs I picked up at Falcon Ridge include Ryan Fitzsimmons, Randall Williams, Chris O"Brien, and Anthony da Costa, who would be amazing even if he weren't only 16 years old.
After-hours were mostly spent mostly at the Budgie Dome, which provided live sets by the likes of Jack Hardy, Red Molly, Iain Campbell Smith, and one of my faves, We're About 9.I did a lot of live recording with my new Roland Edirol R-09, but recording is the easy part. I still need to go back and split each recording into tracks, label them correctly, and do any necessary little cleanup. It will probably be sometime in 2008 before I have finished this.
My Falcon Ridge 2007 photos are now available.I had such a good time at Falcon Ridge that immediately afterward I started contemplating a return to the Rocky Mountain Folks Festival. I say "return" because after attending annually from 1997 to 2001, I hadn't been back since. A big incentive for me was that Ellis would be performing a mainstage set, as would Gandalf Murphy and The Slambovian Circus of Dreams. This group defies description, but I found myself missing their high-energy performance just days after Falcon Ridge ended.
A major reason why I hadn't returned to Lyons, Colorado is the fact that on-site camping tickets tend to sell out in February or March and I usually don't plan my life more than a week or two in advance. But when I checked at the end of July, a few such passes had become available due to returns and I quickly grabbed one. I figured that by not renting a car, I could do the whole weekend for less than $600. I discovered that I could get to Lyons from the airport for only $10 on the public bus.
And it was so nice to be back. The site is really beautiful, with a river running through it, and with quite nice facilities including real toilets and permanent stages (one of them now with covered seating).
I spent my first evening listening to the final night of the Song School open mike (the festival itself didn't begin until the next day). My most memorable moment from that night is after Darrell Scott performed. He was so obviously superior to everyone else we'd heard that the MC said "I don't know if I'm supposed to say this, but Holy Shit!"
During the course of the festival I got to see Judy Collins for the first time, see a great set by Catie Curtis, my reprise of Ellis and Gandalf Murphy (Josiah, the lead singer of Gandalf Murphy, said that listening to Ellis's set is like sitting down for a chat with your older sister), discover The Guggenheim Grotto, Serena Ryder, Brett Dennen, and Darrell Scott, and catch up with old festival friends. Even Chris Isaak was a lot of fun to watch!
That wrapped up my summer camping, but there was still a hole in my schedule: I hadn't yet been to Boston this summer. Unbeknownst to many, Boston is the center of the singer/songwriter universe, and I think it even bests Austin in the category of Live Music Capital of the USA.I flew out for Club Passim's Cutting Edge of the Campfire Festival, which runs from Friday afternoon of Labor Day weekend until Monday night, as I have done a few times before.
This time, though, I showed up three days earlier so I could partake in the fun of Greg Klyma's Tuesday night residency at Toad in Porter Square. Also taking part in the fun were Dana Price, Danielle Miraglia, and the Ryan Fitzsimmons Band. Before the show, I stopped off at Porter Exchange for the worst Japanese meal of my life. See my review on Yelp.
During the weekend festivities, I barely missed a minute, there were so many good performers. I ended up returning with 19 new CDs in tow, including Susan Levine's latest masterpiece, seven years in the making. I first discovered Susan back in 1999, playing the open mike at a neighborhood Chinese restaurant in Cambridge, not far from where I was living.
Impressive first-time (for me) performers included Moe Provencher, Todd Martin, Carsie Blanton, Christina Schell, Nicole Reynolds, Chad Perrone, Liz Longley, and Lindsay Mac (who plays her cello like a guitar).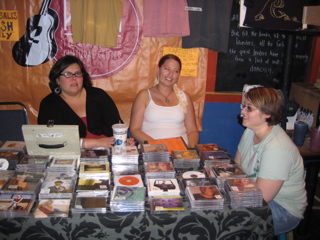 No I didn't buy a copy of each and every one of these.
I wasn't back in San Diego long before my mind started thinking of "What If"s. What if I headed up to Oregon for the Sisters Folk Festival? What if I head out to Joshua Tree for their festival? Or maybe I'll stay put for a bit.