The last time I stayed out all night in Roppongi was back when my Korean-Japanese friend Jung-Ja Ko invited me out to Java Jive (since closed), but even then, we all went home by taxi about 04:00. So that means the last time I saw the sun begin to rise there was for Victor's party in the Sweden Center Building when I was a 留学生. Totally unexpectedly, it happened again last night, in celebration of All Hallows Eve.
(OK, so it wasn't officially Halloween, but given that Halloween falls on a Sunday night, Tokyo chose to celebrate it a day early.)
For years I've been hearing about the annual tradition of gaijin taking over a train car on the Yamanote Line and turning it into a rolling party. Each year that I've been here on the appropriate day, though, something else comes up, and I'd never made it to the Yamanote Party.
This year I was determined not to miss it. I read in one of the local gaijin rags that we would all gather on the Northbound Yamanote platform at Shinjuku at 21:00 and roll from there. Apparently, JR personnel read the same announcements, as they were all ready for us. The platform was swarming with police,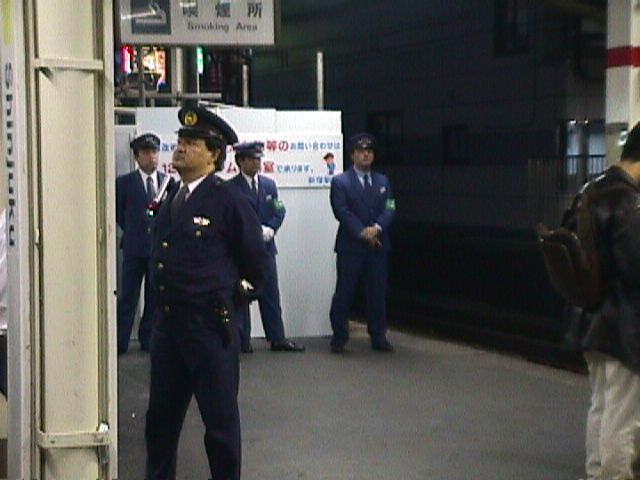 JR Security, ordinary JR employees and a bunch of guys in suits with an earphone in one ear talking into their lapels. The crowd started to get rather large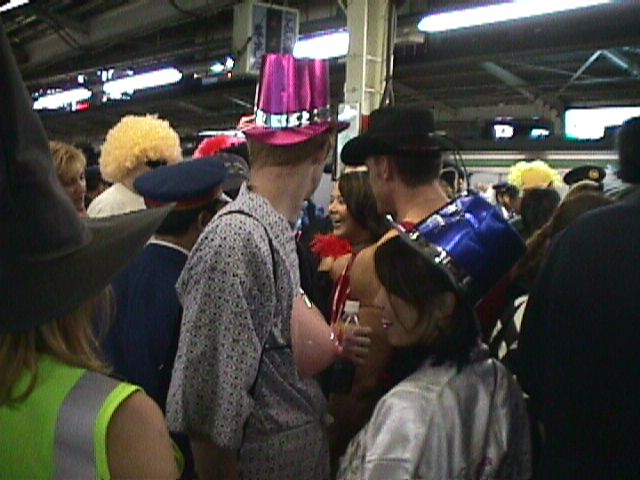 and they kept announcing over the P.A. (mostly in Japanese, but once by a native English speaker with a British accent [definitely the first time I've ever heard live native English over a Japanese railway P.A. system]) that it is prohibited to do anything which interferes with other passengers. Then a bunch of JR guys come out holding signs saying the same thing, except that, of course, the ones in English made no sense.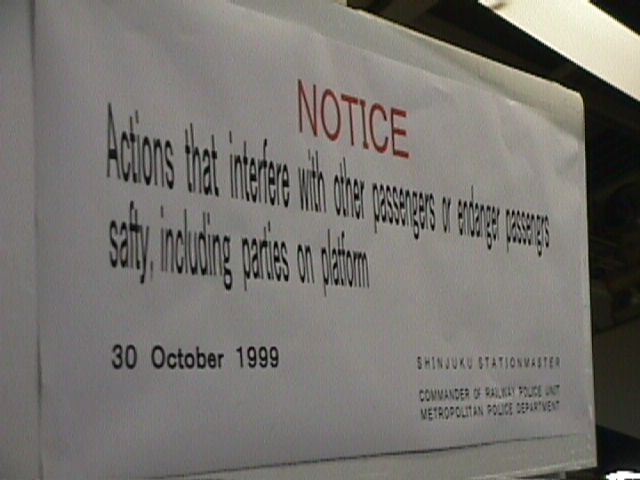 This was all such a joke because the crowd of us Halloween merrymakers (which was about half gaijin and half Japanese) was still miniscule compared to the usual rush-hour congestion on the same platform. At about 21:15 a train pulled up and we all got on. Interestingly, the JR people were encouraging us to get on. I guess they really did want us off the platform. A whole bunch of the security guys got on the train too. They had also radioed ahead as to which train car we were all in, as there was a large contingent of JR uniformed personnel waiting for us at every station. The party consisted mostly of talking, beer drinking, and the passing around of those mini candy bars produced for just this occasion.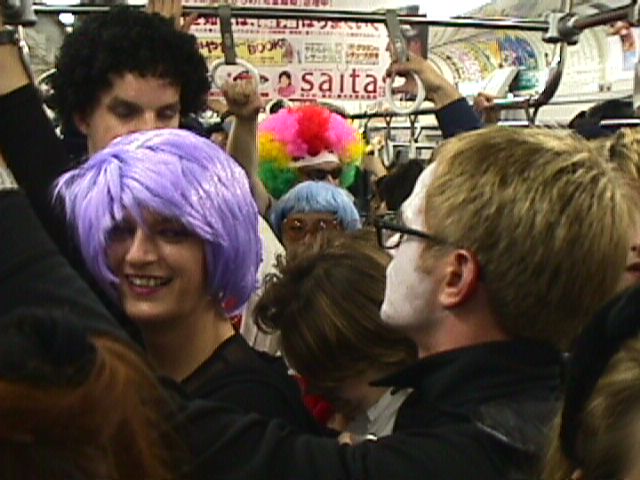 I heard from other people on the party train that the past two years saw some serious damage done to the train car, and that last year they actually diverted the train onto a sidetrack at Ueno and arrested seven people. This would account for the effort put into security this year. My original plan was to stay on the train for one or two rounds, then get off at Shin-Okubo and walk home. I was wearing an ALF mask that I brought over some years ago just in case I was invited to a Halloween party. I never was, so the mask just sat here. One girl on the train said "What, have you had that sitting around since seventh grade? I remember watching ALF back then."
My plan to get off at Shin-Okubo was thwarted when, as we approached Ebisu, about 45 minutes after boarding, people started shouting "Everyone off for Roppongi." Now, I must admit a bit of mixed feelings about Roppongi. I regularly look down on those gaijin who hang out there, pointing out that I prefer to hang in more Japanese nightspots like Shibuya. However, whenever I go to Roppongi I end up having a great time and wonder why I don't go more often.
By the time I arrived at the station, the party train crowd had broken apart and I was on my own. I wandered a few of the disco-filled alleys, coming across Lexington Queen, where they wanted 3000 yen for entrance to their Halloween Party. I considered it for a few seconds, but the thought of plopping down thirty dollars to be locked up in a smoke-filled eardrum-bursting room just didn't appeal to me. What if I didn't like it? I'd be out the yen. I made my way back to the main street where I felt like a celebrity for the first time since being in Tun Xi, China, when I was followed around town by half the population, curious to get a look at a real, live White person. The ALF mask was a big hit, with tons of women stopping me asking if they could take a picture of themselves with me (well, with ALF really). Mostly I had the mask on backwards, both because it was too hot and because it obscured my vision, but I put it on the front of my face for the pictures.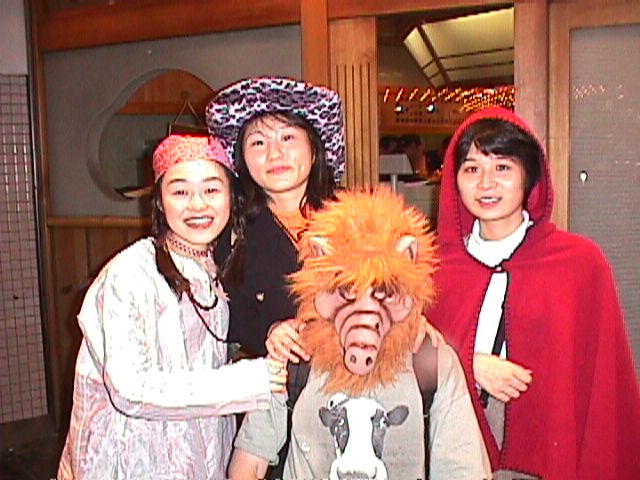 I can imagine that if you're a famous person and this happens all the time it can get quite annoying, but for one night I had no problem putting up with all the women wanting to wrap their arms around me.
I made my way over to Gaspanic, which has a pretty good lock on the gaijin crowd these days, with their bar, cafe, and disco all having no cover charge. Just pay for your drinks, which were all 300 yen. I went into the disco part, and was awarded my free drink for being in costume and ordered my ginger ale. There's a notice on the wall that you must be drinking to stay inside and they do strictly enforce that. They come around and ask if you want another drink. When you say "no", you're required to show them your current drink. Nothing stops you from taking all night to drink the one you've got, though. I had a good time in there, as the music wasn't too too loud and lots of girls kept playing with ALF and wanting their pictures taken. Still, it was too loud to really be able to talk, and I can only take so much of the smoke, so I went outside for some fresh air.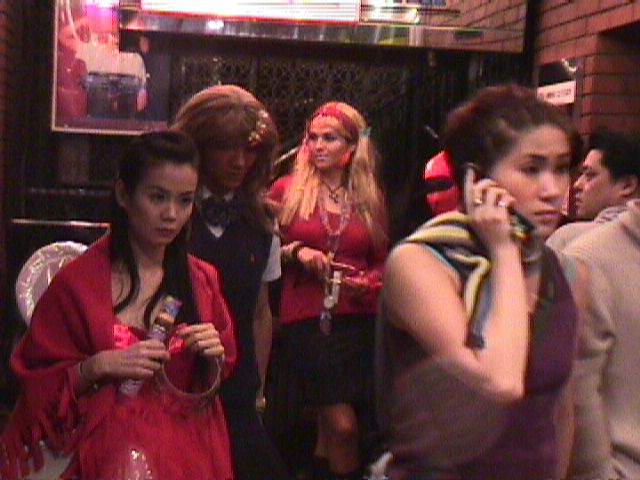 I walked around a bit and it was now at that critical time where I either decide to catch the last train home or make that commitment to spend the night. I thought about what I would do if I went home (work and email), and decided that the worst night out in Roppongi would be better than that. It also helped that I had slept until 11:00 that morning, so there was no danger of becoming too tired. I figured adding a little food to my system would also give me the energy I needed, so I stopped at Sbarro for a slice of their potato and cod roe pizza (only complaint: not enough cod roe).
I thought about going back inside someplace but decided to hang out on a street corner for a while to do some people-watching. Always interesting in Roppongi, it was made even more so by the fact that so many people were in costume.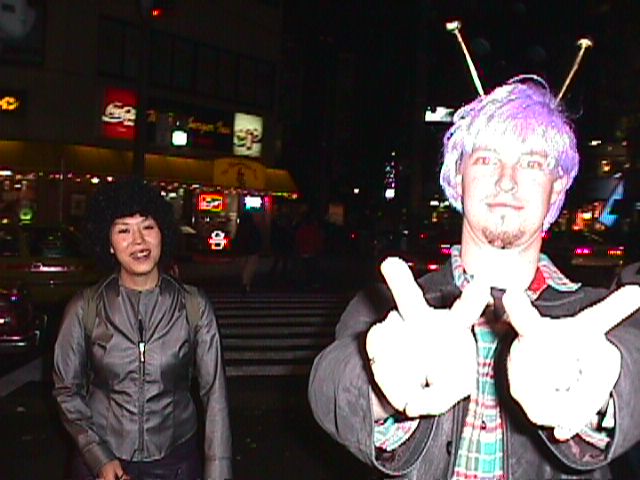 I got lots of picture requests, and did a little photo-snapping of my own. I kept seeing some women I first met on the train and we kept exchanging info on what we'd been doing. After I'd been on the corner about 45 minutes, an Asian woman came up to me and asked in near perfect English why I was just standing there and was I waiting for someone. I explained that I just enjoyed watching the goings-on and we talked for a long time.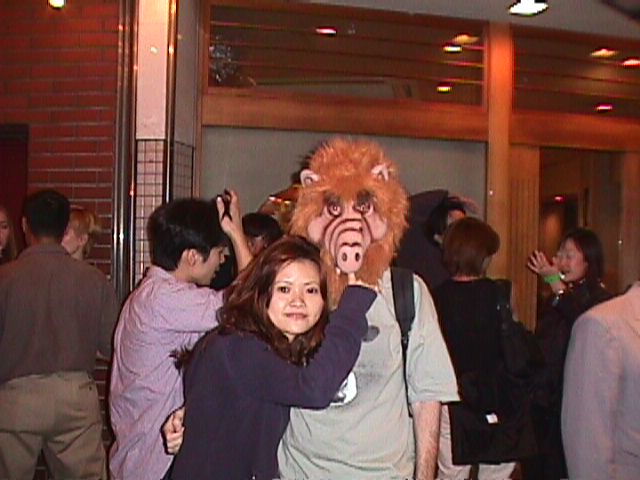 I assumed she was from the U.S. but she ended up being from Brasil. She says she's been here six years, mostly doing arubaito, but arubaito here pay better than professional jobs in São Paulo. We exchanged email addresses before she went back to Gaspanic to join some friends.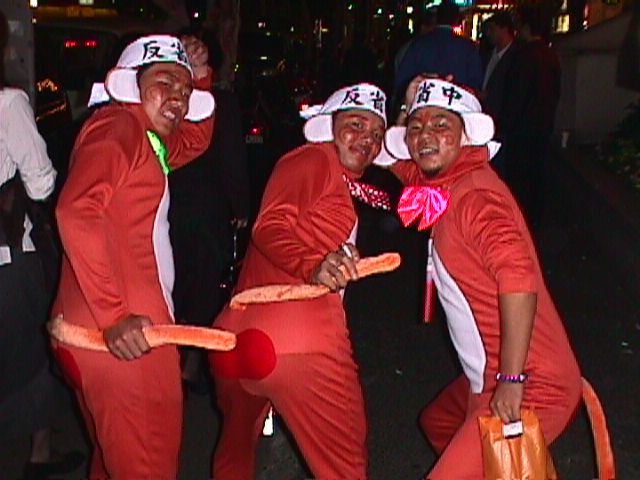 In case you're wondering about how well-known ALF is in Japan, I'd say that most Japanese didn't know who he was, though many did. I heard lots of gasps of "Ah! Arufu da!" The Brasilian woman said she used to watch it dubbed in Portuguese. My Eddie From Ohio t-shirt with a big cow face on the front was also dubbed "kawaii" by many.
Another group of partying Japanese girls stopped by, and one of them started speaking to me in English, telling me that today is her birthday. I wished her a happy birthday and she explained that she's lonely. I asked how could she be lonely when she was out celebrating her birthday with a bunch of friends. She said "I'm just looking to the future." I'm not completely sure what she meant by that. Maybe that she's 25 and still not married? Well, they left soon thereafter, so I'll never know.
It was now about 02:00 and I hit a local convenience store to get some more floppies for my camera. I went back to the corner to hang out a bit more and take some pictures before wandering around again. The weather was close to perfect all night along and I was still in short sleeves, but the thought of some warmth sounded nice. So around 03:00, I hit Starbucks for a Hot Cocoa, Tall, with soy milk (food review: it wasn't sweet enough for my American tastes, and the whipped cream wasn't sweetened, as it is in the U.S.). I sat down at one of the few empty seats and ended up talking to the two people to my left, who had only just met by sitting at that table together.
She's a Japanese woman at Aoyama Gakuin Daigaku, and he's a Chinese-American guy from Poway (in San Diego County) who took a year off from Columbia to spend a year at the Waseda University kokusaibu (the same place I did my study abroad). Soon his fellow kokusaibuer, a guy from Korea, joined us. They spotted yet another kokusaibu student at the table two spots away from us.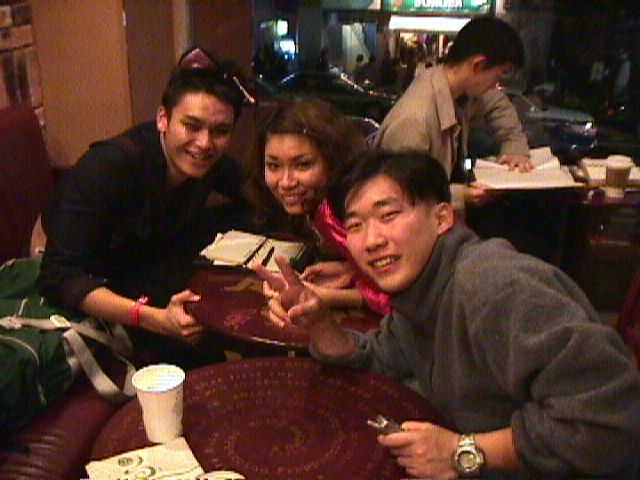 The Chinese-American had trouble following our conversation when we spoke in Japanese, so I asked him which level he's in. He said "J5". I said, "J5? You should speak fairly well, then." He explained it now goes up to "J13" (when I was at the kokusaibu the most advanced class was "J6"). Oh. I had a good time talking to all of them, and at 04:15 Starbucks kicked us out because they were closing. I promised to email them the photos I took, and Alan, the guy from Poway, took my address just in case I flake out.
The first train was still fifty minutes away, so I just wandered the streets until then, when I caught the 05:08, which landed me in bed just before 6. Sure, my sleep schedule is now all messed up. But it was worth it. I don't think of myself as someone into the whole disco, bar, and nightlife scene, but in Japan it always seems different — perhaps more innocent — and I usually have a lot of fun. But I haven't had this much fun being out on the town for the night in a long time.