Being a live music fan, when I travel I naturally like to seek out some live music venues. I haven't been very successful in Greece or Bulgaria.
Greece is full of "music bars", but that just means that the bar plays music over their sound system, or maybe they have a DJ (sometimes brought over from the U.S.) spinning tunes.
In Thessaloniki, I went to Face Bar for their "Girls Play Guitars" night, but I messed up and went on Thursday instead of Wednesday.  I'm not sure how I did that, but I still had a great time, and my one experience hanging out and talking with locals (other than people I was renting rooms from).
The one concert I found was entirely by chance. I was on my way back to my hostel in Athens and I was peering in an open door when an old man on the street told me that a concert was about to start and he thought it was free. He checked with the staff and it was indeed free so I went in for a while.
It was a guy playing instrumental tunes on an acoustic guitar, and I quickly fell asleep, owing both to the lack of vocals and the late hour.
Ahh, the late hour. This is a beef of mine and I must admit that it applies to much of Europe and many other places too. That concert didn't start until 23:00, and that seems to be early.
Now, I must point out that I'm a late-night person and you'll often find me hanging at Lestat's until two in the morning, but that doesn't mean I want my concerts to start after midnight.
Here in Sofia, Bulgaria there are a bunch of places called "Pop Folk" clubs, and that got my hope up as a chance to see some local pop or folk artists. But when I inquired I was told that most just have a DJ.
However, there's a place near the hostel I'm staying at that does have live music. I was told they open at 22:30, so I went over there about 23:00 to see about getting in.
The first bad sign was the large number of security dudes standing by the door, along with two metal detectors and an icon indicating that knives and guns are not permitted inside. Oh, and the name of the place is "Sin City." It doesn't quite have the ring of "Java Joe's." Basically it's a dance club.
However, it's a big place with two floors with different music plus a smaller room called "Folk Club Help" and they said it would have live traditional Bulgarian music (not quite what I wanted, but better than the thump thump thump I heard coming from the rest of the building). I paid my 8 leva (4 euro) and went inside. Of course it was so early that I was the only one there besides the staff. They said the music wouldn't start until midnight. Oh, alright. But then I was hit with the really bad news. The room was fully booked. "No room at tables. No room at the bar" they told me. And I noticed an unopened whiskey bottle on each table, and a small rectangular stage in the middle of the room. I tried to talk my way into being allowed to stay, but it didn't work. I was able to get my admission fee back from the cashier even though the Folk Club staff told me they don't issue refunds but I'm free to roam the rest of the (thump thump thump) club.
It probably would have been an interesting experience. I noticed that some of the other Folk Pop clubs I visited promised a striptease, but it looks like I'll never know.
The problem with visiting a country for just a few days, apart from not being able to grasp big things like the language, is that it can often be the little things that are truly frustrating. Sometimes you have to live somewhere for months (or years) before you learn your favorite places. In a few days, you just don't have the opportunity to find the places you might love. But sometimes you luck out and find a great place. And maybe a word like "Folk Pop" doesn't mean quite what you think it means.
Update on 2007-07-01: I don't know how I forgot to mention my favorite live music experience in Greece, at Lyrakia (AKA Liraki AKA Cafe Crete AKA Kafe Kriti)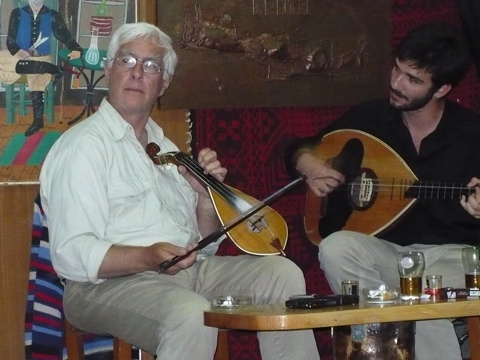 in the town of Chania (AKA Hania or Χανιά). The Lonely Plant guide describes this place as "rough and ready", and indeed a fight broke out one night between two of the regular patrons and spilled out into the street. But the music was authentic, traditional Cretin, and the place was patronized both by locals and by tourists, many of whom said they return here year after year.